As postseason looms for No. 13 Wallace State volleyball, program has won 114 consecutive home conference matches
HANCEVILLE, ALA. – Wallace State's volleyball program has achieved a laundry list of accomplishments during the past 15 seasons.

The Lions have won 14 consecutive regular-season Alabama Community College Conference championships and 11 of the past 12 ACCC Tournaments.

Wallace State has advanced to the National Junior College Athletic Association (NJCAA) Division I National Championship tournament 11 of the past 12 seasons under coach Randy Daniel and produced 12 NJCAA All-Americans and record-setting players under his watch.

Wallace State's final regular season conference home match this season was on Oct. 16 against Coastal Alabama-Southern. The Lions (25-14, 21-25, 18-25, 25-16, 15-11) prevailed to cap off a perfect 20-0 mark in ACCC action, extending the program's home conference winning streak to 114 matches.

That's correct. Wallace State volleyball has won 114 consecutive ACCC home matches – a streak dating back to Daniel's inaugural campaign in 2008.

"When I first took the job, I wanted to build a consistent and competitive program. Looking back, there's no way to predict we would win at the level we have. We have a different group every year, so it's a testament to the dedication and commitment each player has put forth each season to continue the strong expectations that have been established," said Daniel, who's the program's all-time winningest coach and reached 500 career wins with Wallace State last season. "It's an accomplishment that binds all players who have competed and played for us."

Daniel and the Lions are again the ACCC Tournament's top seed after the Lions finished the regular season with a 38-6 record, winning 25 straight matches to close the regular season. The postseason begins Friday at Traditions Bank Arena at Tom Drake Coliseum. The Lions have a first-round bye and play the Coastal Alabama-East/Bishop State winner at 3:30 p.m. on Friday.

The tournament championship is scheduled for Sunday at 12:30 p.m. All tournament games will be streamed live at www.jockjive.com

Sophomore setter Savannah Rutledge, a NJCAA 2nd-team All-American last season, has already set the single-season assists record at Wallace State, rolling into the tournament with 1,478 assists through 44 matches. She's 72 assists away from setting the career assists record, which is held by Abby Borden (2016-17).

"It's special to be recruited by Wallace State and coach Daniel and know that he believes in you to help continue a legacy. The expectations here make you want to work hard and be the best player you can be," said Rutledge, an Albertville native.

The 114 mark encompasses the contributions from many former Wallace State volleyball players.

Here's thoughts from some of the former players about the program:

Kheala Beck (formerly Roberts) – played from 2014-15; former WSCC assistant coach; was a part of 74 wins and won two ACCC championships, including her sophomore season when she was named an All-ACCC/Region 22 first-team selection and made the ACCC All-Tournament team: "We were expected to win every single match. Even though there were high expectations, I think it's good to have an achievable goal in mind. As you're expected to win, people see you winning, but they don't see the practice that's put in and the energy you put forth every single day. Discipline and structure go a long way for the program's success. You know what's expected."

Kate Kent – played from 2018-19; former WSCC assistant coach; part of 71 wins, two ACCC regular-season championships and one conference tournament title: "Wallace State volleyball is the best of the best and you know that when you commit to play and wear a Wallace State jersey. Not only did the program benefit me as a volleyball player, but it also molded a successful life for me off the court. Whether it's academics, work or relationships with others, because of Wallace State volleyball, I have a determined mindset to be the best at anything I set my mind to."

Cassie Mullinax (formerly Daniels) – played from 2008-09; NJCAA Honorable Mention All-American in 2009; setter on the first team to win a tournament title under Daniel; current Bob Jones head volleyball coach: "Being able to start the winning tradition as a member of the first conference championship team is something I will always take pride in. That feeling was the best in the world. I'm grateful for coach Daniel believing in me and helping me become the coach and person I am today."

Emily Lambert (formerly Wilson) – played from 2016-17; all-time leader in program history for digs in a season and career; part of two conference tournament championship teams; 2nd-team All-ACCC selection as a sophomore: "Being a part of Wallace State volleyball meant I was chosen to continue a winning culture. It meant I had to make the decision every day to get better on and off the court. I had to persevere mentally and physically when I didn't think I could anymore. My time at Wallace State helped me grow into the person I am today."

For more information about Wallace State athletics, visit www.athletics.wallacestate.edu or the athletics Facebook page at www.wallacestate.edu/athleticsfb.

###id="attachment_18273" align="alignnone" width="300"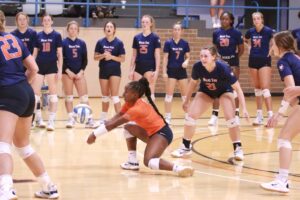 Wallace State libero Temperance Chatman is among the sophomores on this season's team, leading the ACCC in digs.id="attachment_18274" align="alignnone" width="200"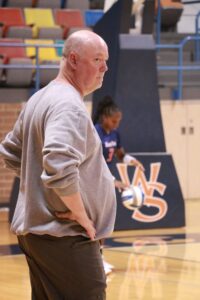 Coach Randy Daniel has led the program to 114 straight home conference match wins.______________________________

Russell Moore

Wallace State Community College

Creative and Content Services Coordinator, Communications and Marketing

Speech Adjunct Instructor

256.352.8443 | office

256.339.2422 | mobile

russell.moore@wallacestate.edu

Click here to submit a Marketing request.

______________________________

Kristen Holmes

Assistant to the President for External and Cultural Affairs

Communications | Marketing | Museum | International | Government Affairs

256.352.8118 | office

256.339.2519 | mobile

kristen.holmes@wallacestate.edu

Twitter • Facebook • Instagram • LinkedIn