Wallace State's cross country teams win fourth consecutive ACCC championships
View more pictures from the meet | https://www.flickr.com/photos/wallacestate/albums/72157720140556000

OXFORD, ALA. – Wallace State's cross country teams are Alabama Community College Conference (ACCC) champions for the fourth consecutive season.

Wallace State's fourth-ranked women had the top five finishers and six of the top eight in the 5K, and the Wallace State men represented five of the top eight runners in an 8K, securing another conference title for each program at Oxford's Choccolocco Park on Friday.

"It's a thrill to coach both teams. They feed off each other and truly care about each other. It's two teams made up of great personalities. They're fun and attentive and are great people, at the end of the day," said Wallace State cross country coach Stan Narewski, who was named the 2021 ACCC Coach of the Year for both the women and men. "Wallace State cross country has a great name because of the hard work put in by each runner. It was another great meet for us."

Wallace State sophomore Macie Ellis was named the 2021 ACCC Runner of the Year after winning the ACCC meet individual championship with a 19:57.13.

Ellis was among the Lady Lions' top finishers all season, including on Friday, capturing the sixth conference title in program history.

"It was colder than I like, but it was a great day. Our coaches are great and I have wonderful teammates. Our team is so close. We're all good friends, and it's easier to win when everyone is on the same page," said Ellis, a Houston native. "It's an honor to be a part of the program."

Added Narewski about Ellis: "Macie loves this sport. It's in her DNA. She does everything she can to be successful. She's a great competitor."

Only 29 seconds separated Wallace State's Aylin Vega, Jaycee Biffle and Dani Akridge for spots 2-4. Vega, a Fort Payne native, was runner-up, clocking in with a 20:17.43, Biffle was on her heels, registering a 20:25, and Akridge recorded a 20:46.84.

Wallace State's Ally Amerson was 5th overall with a 21:09.39, and Ashleigh White rounded out the top eight, clocking in with a 21:32.90.

Wallace State's Alexis Crisp was 9th with a 21:53.33, Katie Serrato's 22:18.09 was good for 11th and Trinity Roberts recorded a 23:37.00 for the Lady Lions.

Meanwhile, the Wallace State men were as equally as dominant. The Lions captured the men's ninth conference title overall.

Raleigh Stamps, a sophomore from Rogers High, comfortably secured the individual runner-up slot, notching a 27:30.70. Stamps finished third overall at last season's meet and improved to runner-up this season.

"Raleigh Stamps is a grinder. I don't know of anyone who works harder or races any harder than Raleigh. The percentage of work he puts in is outstanding," Narewski said.

Added Stamps: "It means the world to us to be able to run well and keep the tradition strong. We all encourage each other and push each other to be our best."

Wallace State sophomore Jonathan Collett set a personal record at the conference meet, finishing third with a 28:15.15.

Following Collett, only 10 seconds behind, was teammate Joseph Arriaga in fourth. He finished with a 28:16.65.

"There's nothing like having a team come together to win a meet like this," said Collett, a Cold Springs graduate.

Dakota Sheppard (28:43.98) and Jikori James (28:50.34) rounded out the top eight for Wallace State.

Collett, Sheppard and James all made the top eight for the second consecutive season.

The Lions also accounted for spots 9-11. Andrew Wrenn was ninth overall, clocking in with a 28:54.87, Mason Worrell was 10th with a 29:17, and Dylan Andrews had a 29:25.60 for 11th.

Dave Hubert (29:46.07), Reid Huddleston (35:08.39) and Jack Joiner (40:46.10) rounded out the Wallace State field.

Both Wallace State teams compete next on Nov. 13 at the National Junior Athletic Association (NJCAA) Division I Cross Country Championships in Richmond, Va.

View the final results here | https://live.xpresstiming.com/meets/11738/xc-events/381167/results

For more information about Wallace State athletics, visit www.athletics.wallacestate.edu or the athletics Facebook page at www.wallacestate.edu/athleticsfb.

###id="attachment_18292" align="alignnone" width="300"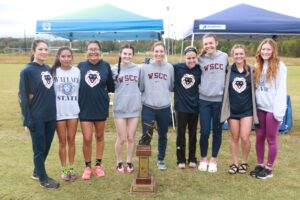 Wallace State's women's cross country team is made up of, from left, Dani Akridge, Aylin Vega, Katie Serrato, Ashleigh White, Ally Amerson, Macie Ellis, Jaycee Biffle, Alexis Crisp and Trinity Roberts.id="attachment_18293" align="alignnone" width="300"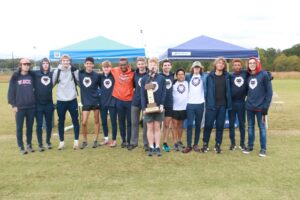 Wallace State's men's cross country team is made of up, from left, Cole Akridge, Jack Joiner, Kayd Hightower, Joseph Arriaga, Andrew Wrenn, Dave Hubert, Mason Worrell, Reid Huddleston, Raleigh Stamps, Jonathan Collett, Dylan Andrews, Dakota Sheppard, Jakori James and Brady Helms.id="attachment_18294" align="alignnone" width="200"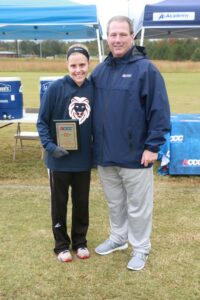 Wallace State's Macie Ellis was named the 2021 ACCC Runner of the Year.id="attachment_18295" align="alignnone" width="300"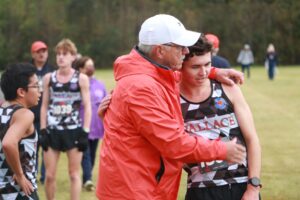 Wallace State coach Stan Narewski, left, congratulates Raleigh Stamps after he finished as the ACCC meet's runner-up.id="attachment_18296" align="alignnone" width="300"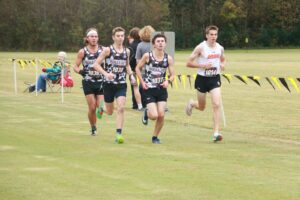 From left, Dakota Sheppard, Mason Worrell and Raleigh Stamps run in the ACCC meet.id="attachment_18297" align="alignnone" width="200"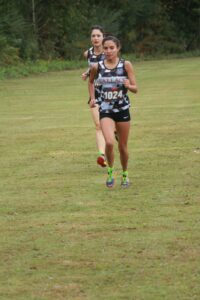 WSCC's Aylin Vega and Dani Akridge each finished among the top five.id="attachment_18298" align="alignnone" width="200"
Wallace State sophomore Jaycee Biffle has finished among the top eight in both ACCC meets in her career.id="attachment_18299" align="alignnone" width="200"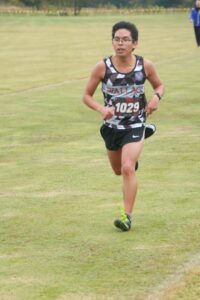 Jonathan Collett set a personal-best in the 8K.______________________________



Russell Moore

Wallace State Community College

Creative and Content Services Coordinator, Communications and Marketing

Speech Adjunct Instructor

256.352.8443 | office

256.339.2422 | mobile

russell.moore@wallacestate.edu

Click here to submit a Marketing request.

______________________________

Kristen Holmes

Assistant to the President for External and Cultural Affairs

Communications | Marketing | Museum | International | Government Affairs

256.352.8118 | office

256.339.2519 | mobile

kristen.holmes@wallacestate.edu

Twitter • Facebook • Instagram • LinkedIn