Wallace State student Justin Self named Federal Work Study of the Year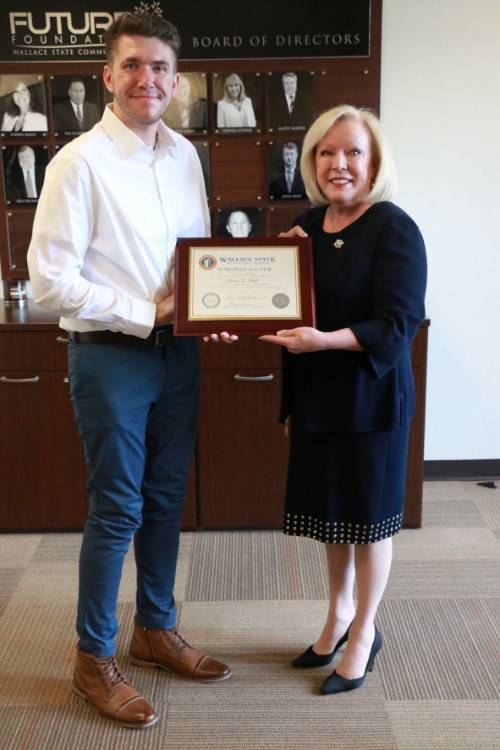 HANCEVILLE, ALA. – Wallace State student Justin Self has been named the Federal Work Study of the Year.
Self, 25, is a general studies major at Wallace State. Through the Work Study program, Self has spent the 2021-2022 academic year working nearby with Hanceville Elementary's kindergarten classes as an aide, reading books to the children and helping them with reading skills, among other tasks and activities.
"I've developed a passion for education through this opportunity. It's a great feeling to see the light bulb go off in a child's eye when they figure something out," said Self, a Carbon Hill High graduate. "The Work Study program has been a valuable experience and I'll always cherish it. It's helped me grow as a person and student."
Self has endured personal heartbreak over the past year and a half. His mother died in car accident last November, a little more than a year after his brother suffered a serious injury in an accident, leaving him in a coma.
"It was a very difficult time and still can be. I reached out to the mental health counselor at Wallace State not too long after my mom's wreck, and it's helped. I've benefitted a lot from choosing to enroll at Wallace State. It's been a great part of my life," said Self, who first enrolled at the college last summer.
Self's experience at Hanceville Elementary has sparked a new career interest. He plans to transfer to UNA to pursue a degree in secondary education after originally having plans to become a nurse.
"Teaching is now a passion. I love it," Self said.
Self is the second recipient of the Federal Work Study of the Year award at Wallace State. JaQuane Brown was last year's inaugural winner.
"Justin Self is a very impressive student. He made an immediate impact in our program and is loved by many. He has a bright future," said Wallace State's Karen Downs, a financial aid enrollment clerk, who helps manage the Work Study program.
For more information about Wallace State, visit www.wallacestate.edu
###
Justin Self is Wallace State's 2021-2022 Federal Work Study of the Year. He is pictured with Wallace State President Dr. Vicki Karolewics.
______________________________
Russell Moore
Wallace State Community College
Creative and Content Services Coordinator, Communications and Marketing
Speech Adjunct Instructor
256.352.8443 | office
256.339.2422 | mobile
russell.moore@wallacestate.edu
Click here to submit a Marketing request.
______________________________
Media Contact
Kristen Holmes

Vice President for Students and Chief Marketing Officer

256-352-8233

kristen.holmes@wallacestate.edu
---
submit a Marketing request
Other Stories