Wallace State's golf teams conclude respective seasons at nationals
HANCEVILLE, ALA. – Wallace State's golf teams wrapped up action recently at their respective NJCAA Division I National Championships.

The Lady Lions, coached by J.J. Adams, finished tied for 11th in Ormond Beach, Fla., and the men's team finished 13th in Lubbock, Texas. The men are coached by Sylas Elliott.

Wallace State's women's team entered the national championship as Alabama Community College Conference (ACCC) champions, winning a fourth consecutive league title, including all four previous spring tournaments.

Wallace State's women competed through a rainy event, encountering multiple weather delays. The tournament was cut short after 54 holes.

Sophomore Lauren Cole capped her Lady Lions' career with a 32-over par 320 (81-81-84-74), finishing 31st overall. Prior to nationals, Cole was the ACCC Tournament low medalist, earning her seventh career individual title with the program. The Glencoe native captured low medalist honors in all four spring events the Lady Lions won this spring.

Fellow sophomore Maddie Nelson finished among the top 40 with a 352.

Rounding out the field for Wallace State were Carly Havens, Hannah Sanders and Abigail Baker.

Nelson and Baker were All-Tournament at the conference tournament. Sanders also made an All-Tournament team this season.

Cole, Nelson and Havens were the team's sophomores.

For the Wallace State men, sophomore Carter Goodwin tied for 20th overall with a 5-over 293 (69-73-78-73) at nationals, pacing the Lions in his final Wallace State tournament. He was among the top five golfers in the field after the opening two rounds.

Goodwin, a Spain Park grad, had 10 Top-10 finishes during his Wallace State career. He was a NJCAA Division I Honorable Mention All-American as a freshman and earned ACCC All-Tournament recognition this season.

Allen Michael Burnett was next for Wallace State with a 16-over 304.

Blayne Armstrong, Davis Aaron and Joshua Darracott rounded out the field for the Lions in Texas.

Goodwin, Burnett, Darracott, Parker Davis, Alex Flint and Patrick Minor were sophomores on the 2020-2021 roster.

Elliott completed his second season with the Lions, leading them to a 25th national tournament appearance.

For more information about Wallace State athletics, visit www.athletics.wallacestate.edu or the athletics Facebook page at www.wallacestate.edu/athleticsfb.

###

______________________________id="attachment_17817" align="alignnone" width="300"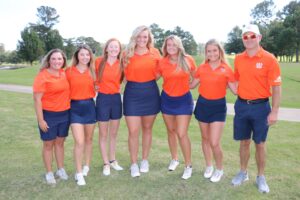 Wallace State's women's golf team id="attachment_17818" align="alignnone" width="300"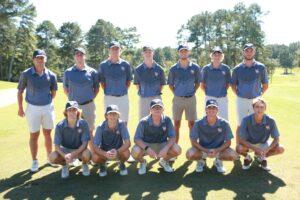 Wallace State's men's golf team

Russell Moore

Wallace State Community College

Creative and Content Services Coordinator, Communications and Marketing

Speech Adjunct Instructor



256.352.8443 | office

256.339.2422 | mobile

russell.moore@wallacestate.edu



Click here to submit a Marketing request.

______________________________

Kristen Holmes

Assistant to the President for External and Cultural Affairs

Communications | Marketing | Museum | International | Government Affairs



256.352.8118 | office

256.339.2519 | mobile

kristen.holmes@wallacestate.edu

Twitter • Facebook • Instagram • LinkedIn