No. 17 Wallace State volleyball wins 14th straight ACCC regular-season championship; men's golf finishes Calhoun Invitational runner-up
HANCEVILLE, ALA. – Wallace State's 17th-ranked volleyball team clinched the program's 14th consecutive Alabama Community College Conference regular-season championship on Wednesday night with a road sweep at Southern Union (25-16, 25-21, 25-5).

Wallace State, which has also won 11 of the last 12 ACCC Tournament titles, has won 22 consecutive matches, improving to 36-6 overall and 18-0 in conference play.

"The championships are something to be proud of. It's always a goal of ours. It gets harder every year to do so. It takes consistency and dedication from each team," said Randy Daniel, the all-time winningest coach in program history. "We started the season with a tough trip to the West Coast, and the level of competition we faced there made us better. We learned a lot as a team. I'm proud of the way we're playing."

The Lions secured the top seed in the ACCC Tournament, which is scheduled for Oct. 29-31 at Wallace State's Traditions Bank Arena inside Tom Drake Coliseum.

Against Southern Union, sophomore setter Savannah Rutledge racked up 31 assists and five digs. Rutledge, a NJCAA 2nd-team All-American as a freshman, leads the conference with 1,420 assists and is only 130 assists away from setting the new career assists record.

Fellow sophomore Temperance Chatman had 15 digs versus the Bison. She needs 123 digs to set that program mark.

Haven Hall had eight kills and a pair of digs for Wallace State. She leads the ACCC with 438 kills.

"Savannah, Temperance and Haven were all good players for us as freshmen and they are making an impact for us again. We've relied on them for two seasons, and they continue to be very consistent. They each have a chance to put their names in the school record books," Daniel said. "More importantly, they're each great people off the court."

In the win, Daisy Manasco contributed nine kills and seven digs for the Lions, Madeline Snow finished with seven kills and a pair of digs and Lexi Shadix contributed four kills.

Wallace State closes the regular season on Friday, playing at Lurleen B. Wallace CC and Coastal Alabama-East.

Under Daniel, the program has also won 114 consecutive home conference matches.

Wallace State men's golf

Wallace State men's golf team finished runner-up this week at the Calhoun Fall Classic, and sophomore Davis Aaron secured a spot on the All-Tournament team, finishing fourth overall at Burningtree Country Club in Decatur.

The Lions led the way after the opening two rounds, carding a 299 over the opening 18. They followed with a 295 and 307, finishing 13 strokes behind Central Alabama.

Aaron, a Tuscaloosa native, carded a 5-over par 221 (77-73-71).

Wallace State's Zackary Coker finished tied for seventh with a 9-over 225 (71-75-79). His 71 in the first round was tied for the best mark over the opening 18 holes.

Chace Nalls was ninth overall for the Lions, carding a 228 (74-75-79).

Joshua Darracott (232) and Allen Michael Burnett (236) rounded out the Wallace State field.

The Lions play next in the Jeff State Invitational on Nov. 1-2.

For more information about Wallace State athletics, visit www.athletics.wallacestate.edu or the athletics Facebook page at www.wallacestate.edu/athleticsfb.

###id="attachment_18039" align="alignnone" width="300"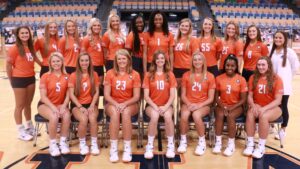 Wallace State volleyball has won 14 straight ACCC regular-season championships.id="attachment_18240" align="alignnone" width="219"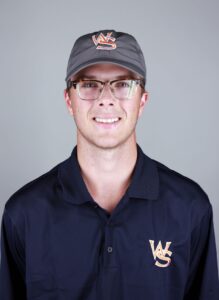 Davis Aaron finished 4th this week at the Calhoun Invitational.______________________________

Russell Moore

Wallace State Community College

Creative and Content Services Coordinator, Communications and Marketing

Speech Adjunct Instructor

256.352.8443 | office

256.339.2422 | mobile

russell.moore@wallacestate.edu

Click here to submit a Marketing request.

______________________________

Kristen Holmes

Assistant to the President for External and Cultural Affairs

Communications | Marketing | Museum | International | Government Affairs

256.352.8118 | office

256.339.2519 | mobile

kristen.holmes@wallacestate.edu

Twitter • Facebook • Instagram • LinkedIn