Wallace State graduate Rick Wilkerson earns full-time employment at Mercedes-Benz USA after completing Tech program
HANCEVILLE, ALA. – Wallace State graduate Rick Wilkerson is the first individual to earn a full-time job at Mercedes-Benz USA as a product of the college's Mercedes-Benz Tech Co-Op program.

Wilkerson began his full-time position at Mercedes-Benz on Oct. 4. He was among the inaugural cohort of Wallace State students to enroll in the Mercedes-Benz Tech program in 2019.

"We're excited for Rick and look forward to seeing him enjoy a successful and long career with Mercedes-Benz. I love watching student success stories, and Rick has been among the leaders in the program. It's a positive for our Mercedes-Benz Tech program and for Wallace State," said Steve Colburn, Workforce Development Administrator and Student Training Program coordinator at Mercedes-Benz.

Through the Mercedes-Benz Tech Co-Op program, students enrolled in Wallace State's Advanced Automotive Technology, complete coursework on campus each semester, while also working full-time at the Mercedes-Benz plant in Vance, earning pay and college course credit simultaneously. Students work at the facility as apprentices. Tuition assistance is provided to students based upon their current GPA's and their eligible for full-time employment with the company upon completion of the program.

Wilkerson made a positive, early impression in the program, being named the inaugural Wallace State Mercedes Co-Op 2019-2020 Student of the Year. He's flourished with the company ever since.

"We're so proud of Rick. He's a hard worker and was dedicated to the program and the job from the first day. He was our inaugural Student of the Year for a reason," said Jamie Blackmon, Wallace State's Director for the Center for Career and Workforce Development. "I can't wait to see what Rick's future holds at Mercedes-Benz. It's definitely something for Wallace State to celebrate."

Added Colburn: "Rick connected all the dots during the program's journey. He worked hard, maintained a solid GPA and earned an education. It's a great message to send to others. If you join a program like this and do what you're supposed to do, a career will be waiting on you as the result."

For more information about Wallace State, visit www.wallacestate.edu

###id="attachment_18264" align="alignnone" width="300"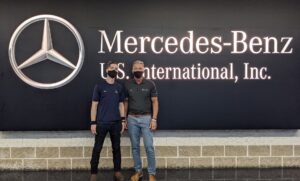 Rick Wilkerson, left, is the first Wallace State student to earn full-time employment at Mercedes-Benz USA through the Tech program, which is available to the college's Advanced Automotive Technology students.id="attachment_18265" align="alignnone" width="225"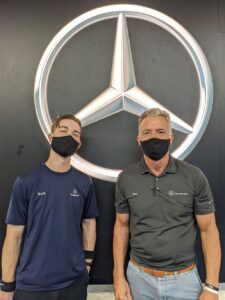 Rick Wilkerson, left, is the first Wallace State student to earn full-time employment at Mercedes-Benz USA through the Tech program, which is available to the college's Advanced Automotive Technology students.______________________________

Russell Moore

Wallace State Community College

Creative and Content Services Coordinator, Communications and Marketing

Speech Adjunct Instructor

256.352.8443 | office

256.339.2422 | mobile

russell.moore@wallacestate.edu

Click here to submit a Marketing request.

______________________________



Kristen Holmes

Assistant to the President for External and Cultural Affairs

Communications | Marketing | Museum | International | Government Affairs

256.352.8118 | office

256.339.2519 | mobile

kristen.holmes@wallacestate.edu

Twitter • Facebook • Instagram • LinkedIn